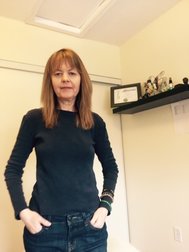 Mary has over 20 years experience having the pleasure of taking care of many different pets from cats and dogs to smaller animals like birds and fish. Very professional and reliable. both Mary is a pet owner who loves all animals and recognize the needs of our furry and feathered friends. They also need love, attention and affection. We offer, cat, and small animal visits .

We make sure that your pets are looked after properly and we treat your pets as we would our own.


---
I am taking the opportunity of introducing Lorraine into the What About Me Kitty and Pet Sitters family. Lorraine has recently joined What About Me Kitty and Pet Sitters as a caregiver. She is looking forward to working with Mary for What about Me Kitty and Pet Sitters and looking after your fur family member!
Lorraine grew up in the Aurora area and lived in Severn Bridge Ontario for a number of years before coming back to live in Newmarket in 2013 with her 2 children.She has had animals all of her life, ranging from the usual cats, dogs, fish, guinea pigs and hamsters to the unusual goats, chickens and geese! Lorraine is comfortable around all of our furry and feathered friends! she will be helping out in the Newmarket/Aurora area.